OUT OF STOCK  

OVER 17 MILLION TEETH WHITENED IN 2020
WHITENING OVER 500,000+ SMILES SINCE 2018
Snow's all-in-one professional at-home teeth whitening system is trusted by over 500,000 customers, invented by American dentists and engineers. Get a professionally whiter smile in the comfort of your home. Every order helps one of the 18-million children who don't have access to dental care.
After spending nearly $3 million developing our most advanced system to date, here's what you'll get with today's order:
Bluetooth enabled and water resistant (shower + Snow®)
Comes with our top selling anti-aging lip balm
Each order comes with a luxurious travel case
Blue light therapy for at-home professional teeth whitening
Red light therapy to support gum health
Snow's serum was designed for sensitive teeth and amazing results.
Snow is the only system we guarantee to work 100% of the time and is only available here and select retailers. Designed in California. Ships worldwide.
NOTICEABLY WHITER TEETH IN 9-MINUTES PER DAY
"Whitens teeth at-home better and faster than the dentist" 

The system includes the world's most advanced proprietary teeth whitening serum only available here, plus the Original, safe LED whitening acceleration technology so you can easily whiten your teeth in minutes without visiting a dentist. This is our only formula in the world to truly whiten stains in minutes to reveal your most beautiful smile - guaranteed.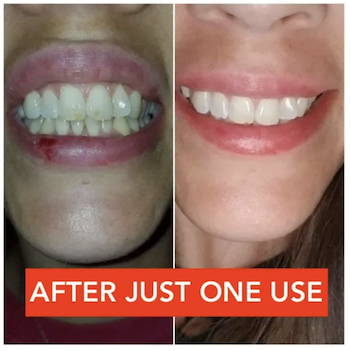 SHIPS TO EVERY COUNTRY IN THE WORLD FROM THE U.S.A.
Snow® is the only formula engineered to react to the LED technology to accelerate whitening: a revolutionary American invention now shipping to 180+ countries.
500,000+ Happy Customers Worldwide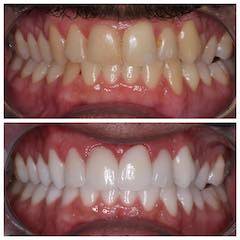 99% Satisfaction Rating
Designed in California
Whiter teeth in 9-minutes a day: Brush, apply serum, whiten, and rinse. Snow's new formula also helps to prevent future stains.
Safe to use or your money-back on: Caps, Veneers, Braces, Crowns, and Bridges
Whitens smoking, coffee, soda, and wine stains in minutes & can help to prevent new stains on your teeth. Ages 9+ are able to use Snow.
This special bundle kit package includes:
Wireless charging LED activating mouthpiece
Vegan & cruelty free proprietary formula
3 whitening wands with professional whitening serum
1 maximum strength teeth whitening wand
Luxury travel case to take your Snow® on-the-go

Results guaranteed

and 5-year warranty
Instructions to get started in seconds
Over $3 Million in Research & Development
Ready-to-use within 30 seconds once it arrives.
  OUT OF STOCK