Luckily, you can now whiten your teeth and brighten your confidence safely, affordably, and in under 15 minutes a day with SNOW®'s Magic Whitening Strips!.

Dissolvable, invisible, and totally mess-free, here are 6 reasons why single people everywhere are turning to Magic Whitening Strips to help land their dream dates:
1. Revolutionary P3 Technology® Whitens Better Than Competitors
Embarrassingly yellow coffee, tea, or wine stains? We don't know her! 👋 Designed by dentists, SNOW's Magic Whitening Strips are the only product on the market to feature a patented P3 Technology® that's guaranteed to whiten your teeth more effectively than the competition.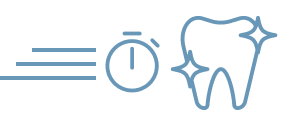 2. Swipe left on gooey, sticky mess
Unlike other whitening strips, SNOW®'s Magic Whitening Strips are completely dissolvable so there's no gooey, sticky mess left behind! Just a brighter, whiter smile and confidence that lasts. Treat your smile with only the best and wave goodbye to all the rest. ✨

3. All it takes is 15 minutes
What if all it took was just 15 minutes to remove YEARS of insecurity and staining? Well, the good news is, thanks to SNOW®'s mess-free Magic Whitening Strips, now you can dissolve and strip away embarrassing, yellow stains in under 15 minutes a day!

4. Invisible, comfortable AF whitening
Slay all day without strips getting in the way, thanks to SNOW®'s Magic Whitening Strips! Unlike competitors, these whitening strips are translucent and thin, for a barely-there but super effective whitening experience. Wear them to your next Zoom meeting, on the go, during Netflix and chill, or anytime you need a whitening pick-me-up.
5. Tastiest whitening experiencer, ever
Natural lavender, refreshing mint, and a perfect whitening experience—oh my! Get whisked away to fields of lavender and mint while Magic Strips transport your smile to a brighter world. It's the tastiest whitening session you'll ever experience!
6. SNOW® is loved by 1+ million customers
Treat yourself with the best of the best! With over $2.5 million invested in research and development with first class dentists, it's no wonder SNOW® was voted the world's #1 Teeth Whitening brand. Just go on their website and see hundreds of 5-star reviews by their 1+ million satisfied customers, including celebrities like Kris Jenner and Ellen Degeneres!

THE MAGIC WHITENING STRIPS®
Only product with patented P3 Technology®
Noticeable whitening results after just 3 uses
Nearly 100,000 strips sold every week
Quickly and completely dissolves with no residue
Whitens up to 7 shades after 14 treatments in one single box of strips
Safe for enamel and does not cause tooth or gum sensitivity
Antibacterial ingredients freshen breath
Includes 28 whitening strips per pack
4 interest-free payments of