Luckily, the world's #1 Teeth Whitening Brand, SNOW®, has the perfect solution for anyone hoping to land a job or promotion. Introducing the ~~world's first~~ LED Electric Toothbrush. SNOW's revolutionary whitening tool has 4 unique modes, is the 2022 NEW BEAUTY® Award Winner, and has been dubbed the "Apple Product of Oral Care."

Keep reading for 6 reasons why successful people are switching to SNOW®'s new LED Electric Toothbrush:
1. Whiten And Clean — All At Once
We get it, you're busy! Here's the good news: SNOW®'s LED Electric Toothbrush not only provides you with an advanced clean — it whitens at the same time! The LED Electric Toothbrush features revolutionary Blue LED light, which works by accelerating whitening agents.

2. Achieve Your Cleanest Smile With Sonic Technology
3. 4 Different Modes for a Tailor-Made Smile
Ever dated someone who just could NOT meet your requirements? Thank you, next! 🙄 Luckily, SNOW's LED Electric Toothbrush will meet all your needs. For a truly customized clean, it features 4 unique modes: Clean, Whiten, Polish, and Sensitive.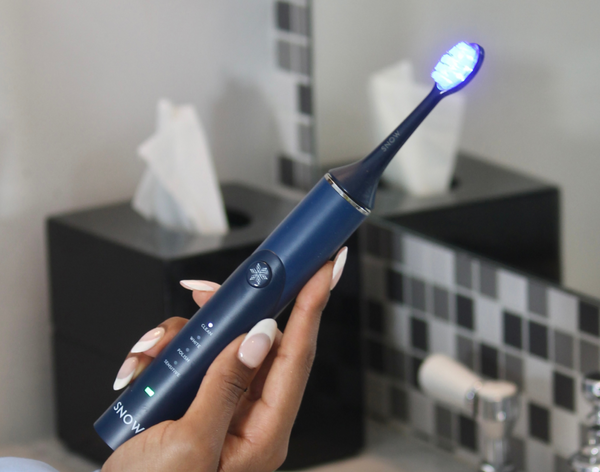 4. Built-in Timer, so You Can Brush Smarter, Not Harder
Brush smarter, not harder! Luckily, SNOW®'s revolutionary LED Electric Toothbrush comes with a smart 2-minute timer with 30-second intervals, to encourage healthy brushing habits for a truly brilliant smile.
5. Everything You Need in 1 Convenient Package
Serve up sparkling smiles while SNOW® takes care of the rest. With 2 LED brush heads, long-lasting battery life, a charging base, a charging adapter, a built-in timer, and 4 unique modes all included, the LED Electric Toothbrush is always ready when you are
6. Your Smile Is Safe With SNOW
Buying a toothbrush is like dating: you should never settle for less. That's why SNOW® has invested over $2.5 million in developing products with dentists that not only whiten like magic but are also safe for everyone — just ask their 1+ million happy customers, including A-list celebs like Kim Kardashian and Ellen Degeneres.

THE LED WHITENING ELECTRIC TOOTHBRUSH
(1) Charging adapter
Sonic technology for better cleaning
Our signature blue LED light trusted by millions for whitening support
2-minute timer with 30-second intervals for easy, better brushing
Pairs well with our whitening toothpaste to add to your brushing in seconds
4 unique brushing modes for all your smile's needs and compatible with the SNOW® Face Brush attachment to wash your face with the same device
Long-lasting battery life with charging base
Includes (2) LED brush heads ($22 value)
4 interest-free payments of