🔥 Savings reserved for readers of



Insider Smiles And Snow Have Teamed Up Offering Readers a special deal for people with Sensitive Teeth

Normally Snow charges $199 but if you order through Insider Smiles right now, you can save over 45% and get the whitest smile of your life in 9 minutes, from the comfort of your home. PLUS  get 2x free bonus Whitening Wands and  1x bonus Desensitizing Serum  for your sensitive teeth. We're even throwing in  FREE shipping on your order from our Arizona warehouse. Oh, we've also got a lock solid 5 year guarantee and a friendly USA based customer service team you can count on 100% of the time.

Save over 45% when you order on this website right now. This deal won't last. Someone buys their very own Snow product every 37 seconds, so act fast. (April 30, 2020)

We are shipping 24-7 from Arizona to keep up with the demand. Order fast before we sell out!
SHIPS FROM ARIZONA TO YOUR DOORSTEP
OVER 17 MILLION TEETH WHITENED IN 2020
Join 500,000 other people who switched to Snow in 2020! Snow's all-in-one professional at-home teeth whitening system targets every stain and whitens deeply without causing the pain of options in the dental office. Snow was invented by American dentists and leading engineers. This is a one-time investment for our best teeth whitening product on the market. Never visit the dentist again to whiten your teeth, no matter how sensitive they are!
NOTICEABLY WHITER TEETH IN 9-MINUTES
"Whitens teeth at-home better and faster than the dentist" 

The system includes the world's most advanced proprietary teeth whitening serum only available here, plus the Original, patented safe LED activating technology so you can easily whiten your teeth in minutes without visiting a dentist. This is the only formula in the world to truly whiten stains in minutes to reveal your most beautiful smile - guaranteed.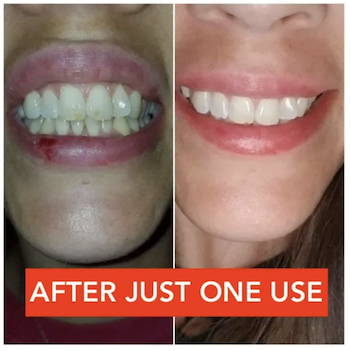 SHIPS TO EVERY COUNTRY IN THE WORLD FROM THE U.S.A.
Snow® is the only formula engineered to react to the LED technology to accelerate whitening: a revolutionary American invention now shipping to 180+ countries.
500,000+ Happy Customers Worldwide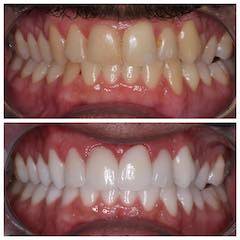 99% Satisfaction Rating
Designed in California
Whiter teeth in 9-minutes a day: Brush, apply serum, whiten, and rinse. Snow's new formula also helps to prevent future stains.
Only formula approved to use on: Caps, Veneers, Braces, Crowns, and Bridges
Whitens smoking, coffee, soda, and wine stains in minutes & helps to prevent new stains on your teeth. Ages 9+ are able to use Snow.
This special bundle package includes:
1 Mouthguard with state of the art LED accelerating light (patented technology)

2 Whitening wands with advanced whitening serum that erases decades of stains (proprietary formula)

The best value on the entire market

1 Desensitizing serum to prevent sensitive teeth

Control how white you want your teeth in seconds

1 Teeth whitening progress tracker

Results guaranteed

and 5-year warranty

Easy to use in seconds right out the box

Over $3 Million in Research & Development
Ready-to-use within 30 seconds once it arrives.
"The Apple of Teeth Whitening" - Dentaly Magazine

Normally Snow charges $199 but if you order through Insider Smiles right now, you can save over 45% and get the whitest smile of your life in 9 minutes, from the comfort of your home. PLUS  get 2x free bonus Whitening Wands and  1x bonus Desensitizing Serum  for your sensitive teeth. We're even throwing in  FREE shipping on your order from our Arizona warehouse. Oh, we've also got a lock solid 5 year guarantee and a friendly USA based customer service team you can count on 100% of the time.

Was: $199.00
Your Deal: $127.50